Business has become more competitive and value driven than ever. To improve their deliveries and performance more and more organizations are going digital and adopting ERP. And with the increase in number of ERP implementation, number of failures has also increased. ERP selection & implementation has a key role in successful ERP implementation.
Here is our guide for ERP selection and implementation.
1.   What is ERP?
2.   How ERP is helping midsize organizations around the globe?
3.   8 Signs it's time to invest in ERP for your business.
4.   ERP selection steps.
5.   How to estimate ERP implementation cost?
6.   The Key Factors for successful ERP implementation.
7.   How to check if you are ready for ERP?
8.   ERP Implementation Methodology.
9.   ERP Post Implementation Audit.
10. Beyond ERP: The Road Ahead
CRM
EAM
ERP2.0
Mobility
Business Analytics
Big Data
1.   What is ERP?
ERP is a shared database that supports multiple functions used by different business units hence reducing duplication and streamlining business processes
ERP provides:


Real time data across organization




Better company wise visibility




Eliminate redundancies




Analyze and report business data




Supply chain visibility and control




Automation in different sectors
2.   How ERP is helping midsize organizations around the globe?
ERP can help in giving a competitive edge to your organization by:


Providing collaboration that helps in making your company more productive




Give real time visibility that allows decision makers to adjust when needed




Integrating business intelligence hence getting more insights from ERP data




ERP can help you to realize benefits faster when you utilize services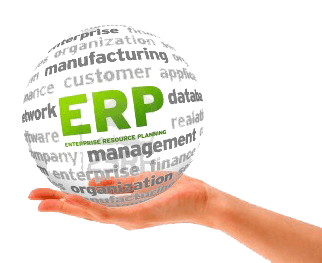 Organization that have implemented ERP are seeing:


15% less operational cost




13% less administration cost




17% more internal schedule compliance




18% faster cycle times from services to invoicing




33% improvement in inventory returns
Best in the class organization with developed IT infrastructure enjoys:


22% growth in operating margins




32.4 days outstanding sales




95% completed and on-time delivery
3.   8 Signs it's time to invest in ERP for your business
Difficult access to information when needed
Employees don't get the right information at right time
Lack of collaboration between departments
Information flow across different departments in your organization in slow
Difficult with accounting
Because of multiple transactions happening in your business, accounts department find it difficult to keep data
Troubles in meeting schedules
It's hard for different teams to get the information they need about the production schedule, leading to delays
Complex software infra
IT department cannot keep up with multiple business units performing different functions
Lack of access when working remotely
You are not able to get information about ongoing project on the go
Lack of visibility over inventory
Your inventory keeps facing troubles like overstocking or under stocking
Lack of customer satisfaction
Customer unable to get accurate real time information about their order
4.   ERP selection steps
Assess your business process
Find out what your business needs by accessing your business processes and determine where your business is lacking.
Develop selection criteria
Determine a selection criteria based on features, usability, support, post implementation training and ERP vendor's experience.
Get matches
Evaluate vendors based on selection criteria and make a list of vendors shortlisted.
Schedule demo
Get a real time experience of the shortlisted ERP's.
Compare proposals
See which among the shortlisted vendors' best suits you and promises good ROI.
Check references
See if shortlisted vendors are willing to provide references.
Make a decision
Check the vendors you've shortlisted from the above steps and determine which one is best for you.
5.   How to estimate ERP implementation cost?
Software License Fees
Find the actual cost of license
Hardware and Third party software
Your Company may need to purchase a new server, upgraded workstations or SQL server licenses to run your new ERP software.
Implementation Services
Find out what is included in the implementation services and will it cost extra
Number of users
Number of people who will use the ERP may also affect the cost
Customization needed
Find out if the software can be implemented readily or will it require customization
Training and services cost
Find out if there is any extra cost for training & services post implementation
Maintenance Fees
Typically you need to add certain percentage to the software list price for the required yearly maintenance fee.
6.  The Key Factors for successful ERP implementation
Active Participation
People in the organization have to make the project their priority
Proper Planning
Form a plan with minimum assumptions and accurate data
Clear Business Objective
Make clear your definition of success or end point becomes a moving target
Sufficient Resources
A correct estimation of resources required is necessary
Realistic Expectation
Setup realistic expectation and don't expect ERP to perform miracles
Minimize Customization
Lack of standard business practices can lead to over customization which can lead to implementation failure.
Proper Testing
Before going live perform proper testing of the ERP to see if the system meets your business needs.
Training of Employees
Employees should be trained to know the ERP basics, overview of system and its working.
Post Implementation services
ERP requires frequent reviews and corrections for the ever changing market
Management of Transition phase
This transition phase have to be handled properly as there can be a temporary dip in performance after ERP implementation.
7. How to check if you are ready for ERP?
Final Goal


Identify final goal




See if the key stakeholders understand the goal

Scope of the Project


Identify modules required




Data conversion scope




Determine interface scope




Identify workflow scope

Identifying Roles


Identify project team




Define roles of the team

Technology Required


Assess current hardware




ERP system requirement




Hardware availability and procurement




Role of hardware setup
Implementation Approach


Project skills assessment




Staff availability assessment




Identify blackout dates




Clearly define tasks

Training


Identify training resources




Identify training participants




Plan for Training Material Development

Support


Review Current Support Structure




Discuss Post-Live Governance Model

Facility Requirements


Identify and Ready Workstations




Identify Alternate Meeting Locations

Payment Schedule


Identify Any Cash Flow Limitations




Identify Any Budget Challenges

Project Communications


Steps Taken to Communicate between project team




Determine if key executive understand Project Goals and Upcoming Changes




If regular communication is established to inform about project status




If staff understand their role in the project
8. ERP Implementation Methodology
ERP implementation project kickoff and team forming
Identification of project objective


Appointment of project coordinator and key user identification




Project kickoff meeting with steering committee




Auditing of infrastructure

Requirement gathering and submission of proposal


Identification of department level objective




Identification of key pain areas




Assertion of performance and acceptance criteria




Design submission & determination of checkpoints
Business Process Reengineering (BPR)


Analysis and redesigning workflows




Optimize end-to-end processes




Automate non-value adding tasks

Project Customization


Gap analysis preparation




Size and effort estimation for customization




Customization of product




Testing

Training and Knowledge transfer


Area identification for knowledge transfer




Live workshop by functional experts




Detailed training, schedule preparation and finalization of go-live date




Execution of training program per schedule

Reviews and Feedbacks


Frequent review meeting




Progress sheet preparation




Evaluation of implementation process




Feedbacks on current status of the project to the management

Project Acceptance


User feedback gathering on specific KPAs




Approval from key users and HOD




Acceptance certification from management

Post implementation


Keeping tabs on how ERP is working




Periodic maintenance




Training employees
9. ERP Post Implementation Audit
Overall Scope and Planning


Review how closely the project results the objective




Evaluate system suitability with organization's business requirements




Review the expected deliverables and their quality
Driving Principles


Understand the organization's process efficiencies improvements




Evaluate if the necessary controls & systems are in place

Cost & Benefits


Compare actual costs to budgeted cost




Compare actual benefits to expected benefits




Evaluate ROI




Compare actual savings to expected savings

User Level Satisfaction


Evaluate overall user satisfaction and understanding of the system




Meet End user requirement




Project sponsor satisfaction

Learning Evaluation


Review user learning and institute corrective mechanism




Define the training plan of the new system




Evaluate knowledge transfer among implementation team

Improvement Areas


Evaluate if the benefits are achieved




Identify openings on if the business processes can be made more efficient




Review if anymore changes can be made to improve the system further

Lessons learnt


How well the project's deliverables, costs & benefits accessed




Identify what went well & needs to be learned from




Identify what went wrong & how to avoid it in the future
10. Beyond ERP: The Road Ahead
CRM


Assign, qualify and convert leads




Form a database




Develop knowledge base and conduct trainings




Deliver products and produce invoices




Improve after sales support

Enterprise Asset management


Maximize asset performance




Keep plant, equipment and facilities reliable & safe




Reduce maintenance and operational cost




Improve efficiency of operational aspects

ERP2.0


Improve functionality of SCM, SRM & CRM




Collaborate with entities outside organization




Access information outside company

Mobility 


Track progress of project on the go




Reach ground employees from HQ




Basic HR activity by employees themselves




Data needed can be accessed anytime, anywhere

Big Data


Collection of structured and unstructured data




Determine root causes of failures, issues and defects in real time.




Recalculate entire risk portfolios in minutes.




Detect fraudulent behavior before it affects organization.

Business Analytics


Explore data to find new patterns and relationships




Explain why certain results occur by statistical and quantitative analysis




Test decision using different testing's




forecast future results by predictive modeling and analytics