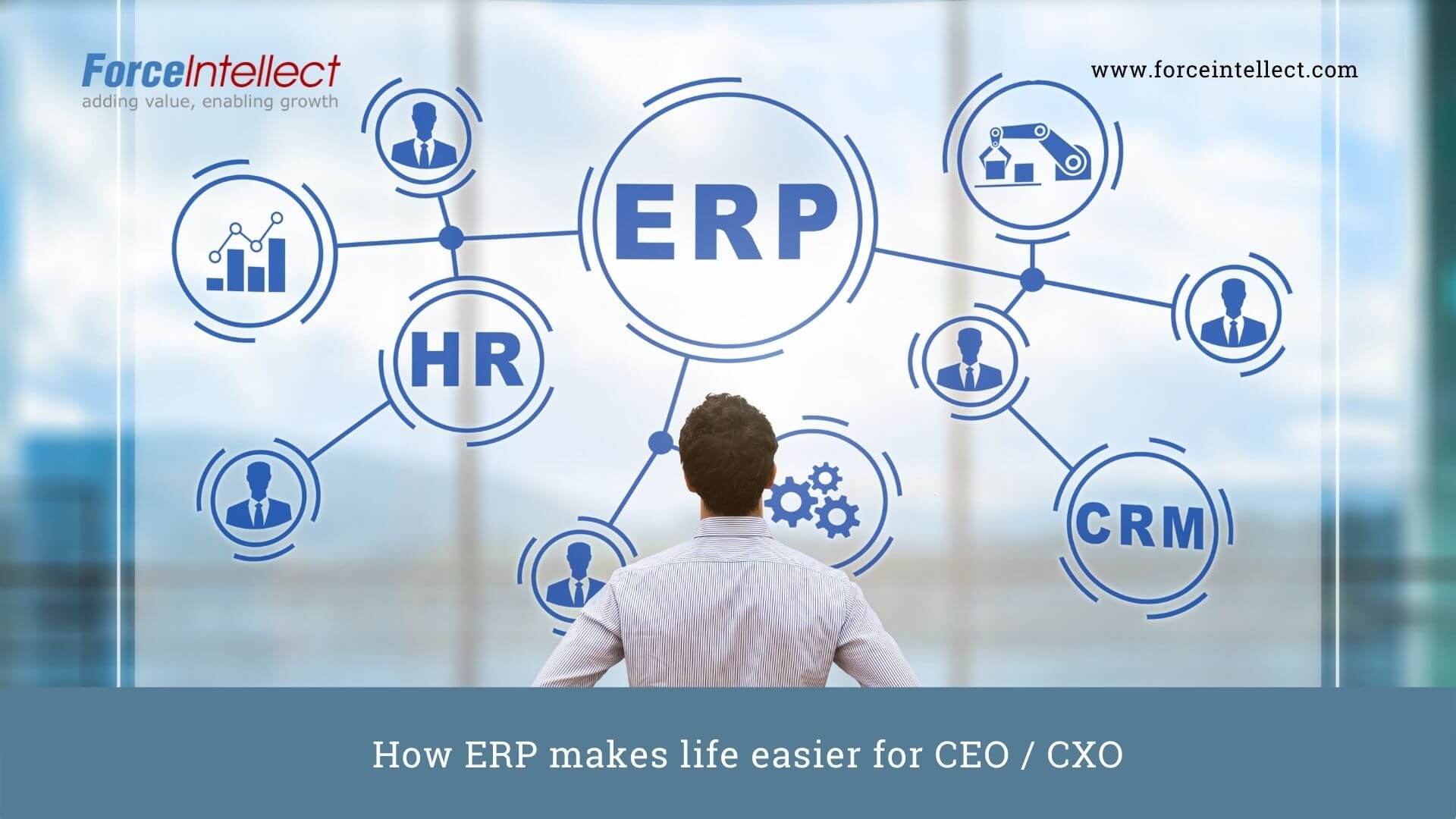 ERP makes life easier for CEO/CXO
As the CEO of a manufacturing company with 3 manufacturing locations in different states of a country, how wonderful it would be, to have complete visibility of all functions of your business to make informed decisions? What if you can identify the causes of bottlenecks/delays in your business? What if you could get a real-time dashboard that provides one glance summary, of the entire business?
As a CEO/CXO, you may need answers to various questions from each function. You may take the help of technology & ERP to gather all relevant information to make data-driven informed decisions. Let us now understand how ERP makes life easier for the CEO/CXO.
Role of the CEO/CXO
CEO/CXO is responsible for the overall success of the manufacturing organization. They have to keep a laser-sharp focus on the performance of the organization and steer it to achieve its overall goals and objectives. Together they are responsible for ensuring that every resource is being optimally utilized and every function is performing at its peak, starting from planning, to the procurement of materials, to production to efficient supply chain and ultimately achieving maximum customer satisfaction.
ERP Software helps CEO/CXO of manufacturing companies to achieve all this and more.
How ERP makes life easier for CEO/CXO in manufacturing companies?
1. Maximum automation to achieve Speed
Speed is the new currency of business and the CEO/CXO constantly strives to achieve speed & efficiency in every process to gain a competitive edge in the market. With ERP Software, companies can digitize and automate processes. This significantly reduces manual work and eliminates errors. Notifications and alerts are set up at various stages to ensure stringent quality checks and eliminate bottlenecks and delays. All this brings speed and efficiency in the processes.
2. Rollout Standard processes/discipline with ERP
ERP software helps to define and implement business flow, to describe rules & guidelines as well as implement validations and checks for almost every activity in the organization. ERP helps to implement strategies of Business discipline for managing functions such as procurement, inventory, plant maintenance, production, sales, and so on.
Companies can also implement strategies for Financial discipline to ensure timely collections and payments, implement credit control policy, for achieving a healthy cash flow in the organization. Managers can watch if the discipline is being followed or not. This forms the basis for ensuring continuous improvement. CEO/CXO can check how the strategies impact business performance and plan future steps for improvement accordingly.
3. e-Approvals / Online Approvals
With ERP Software, companies can set up systems for providing e-Approvals or online approvals by sending Notifications/Alerts via SMS/Email. This eliminates the necessity to be physically present at the location to sign papers and provides them the flexibility to do so at their convenience even if they are traveling or on the field. Concerned authorities can approve documents, make decisions, and provide approvals anytime, from anywhere. This saves significant time and reduces cycle times considerably.
4. Measuring Manufacturing KPIs
Manufacturing involves the use of raw materials, consumables, components, plant & machinery, manpower, money, to produce finished goods. CEO/CXO is keen to ensure optimum utilization of resources and ensure maximum productivity. ERP software enables defining Key Performance Indicators for functions such as plant & machinery, inventory, purchases, sales, quality, and customers. ERP provides KPI based reports so CEO/CXO can monitor and review the same weekly, monthly, or quarterly to achieve operational efficiency.
5. Push Reporting
Business Reports provide significant insights into the various functions of the organization. ERP Software Management can set up Push Reporting, which ensures reports are automatically generated at a specified time and interval and emailed to the concerned decision-makers. ERP enables you to generate reports for every function such as Procurement, Inventory, Sales, Quality, Customer Services, for costing and expenses, for statutory requirements, and so on. This helps to closely monitor functions and ensures that problems get highlighted at an early stage and CEO/CXO can channelize their efforts to improve performance.
6. Manage by Exceptions
With ERP software companies can establish rules about various procedures and documents such as deliveries, returns, sales quotes, sales orders, discount percentage, material consumption, and many more such functions. This ensures that people follow the criteria specified within the acceptable range. Thus, when everything is proceeding within preset parameters, the CEO/CXO does not have to intervene.
However, when there is any deviation or exceptional circumstance, beyond the specified acceptance levels, that requires approval, a notification is sent to the concerned authorities for their perusal and action. Thus "management by exception" saves significant time, of CEO/CXO, which they may have otherwise spent in monitoring day to day operations.
7. Dashboard & Analysis of Past transactions
ERP software presents a Dashboard with graphs and charts to identify trends and patterns in business processes such as production, material management, etc easily. It helps to identify problem areas, delays, and bottlenecks. This ensures CEO/CXO can make more appropriate and informed decisions to reduce costs, improve speed, and improve overall business performance.
Summary
ERP Software makes the life of CEO/CXO easier by compiling organizational level data, providing complete visibility of the entire business with dashboards & analysis of past transactions, providing approvals on the Go, enabling them to roll out strategies for improving business performance to achieve growth & profitability.
Request a Demo of Spectrum ERP Software