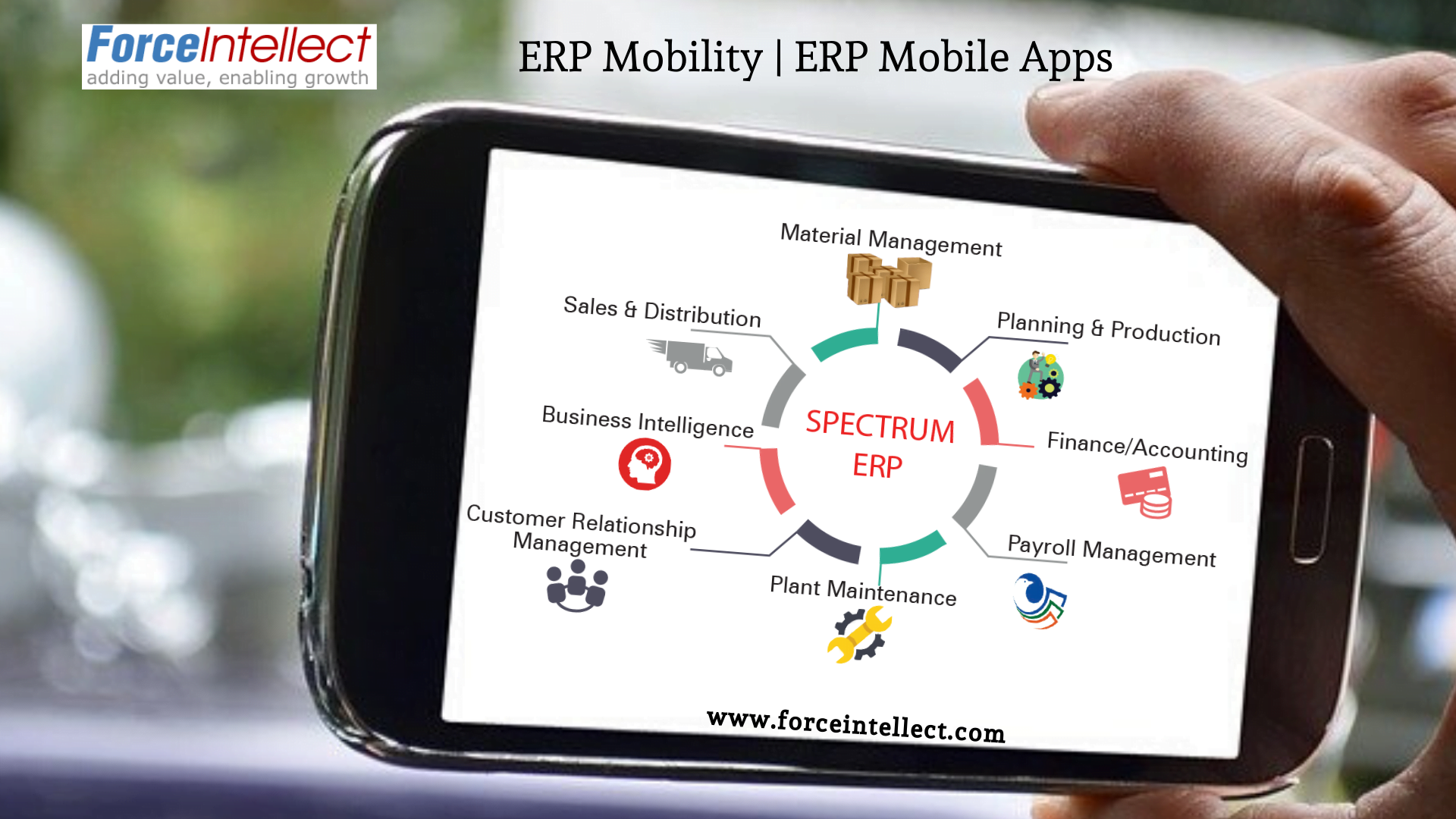 Importance of  ERP Mobility / ERP Mobile Apps for Manufacturing Companies
The convergence of internet & mobile technology is a revolution that has transformed our lives & and the way we do business! Advancement in the internet, mobile technology, computing powers has opened up unprecedented possibilities and means of accessing data! In fact, people are progressively using Smartphone, Tablet as workspaces, while traveling or working from remote locations. This is precisely where ERP Mobility or ERP Mobile Apps comes into the picture and plays a significant role.
What is Mobility in Business? Why the need for mobility in Business?
The term Mobility means using smartphones or tablets for performing business operations from wherever you are and whenever you like. Mobile Applications or Mobile Apps are developed specifically to provide functionalities similar to those you can access on a computer, but with specific features and limited, select functionalities which are necessary, while on the Go!  Mobility enables businesses to stay connected with their employees, customers, vendors, third-parties; who can communicate & coordinate anytime, from anywhere.
What is ERP Mobility or ERP with Mobility?
ERP software integrates all important processes of an organization such as planning, production, purchasing, inventory, sales, marketing, finance, human resources into a centralized system. ERP software connects various departments, locations, business verticals, and provides real-time data with detailed analysis reports to make informed decisions.
ERP Mobility is the logical progression of ERP. Mobile ERP solutions or ERP Mobile apps expand the functionality and reach of ERP software by providing the same on a mobile interface. ERP Mobile Apps provide access to select ERP Data anytime, anywhere to stay connected with ERP and perform tasks directly while on the field!
Why the need for Mobility with ERP?
Earlier, there was a lack of ERP connectivity while on the field. Hence employees on the shop floor, field service technicians, salespersons on the field could not access ERP data & information. They had to return to their desks to access ERP data & functionalities to perform certain tasks. This was not only time consuming but also resulted in significant delays and non-availability of accurate real-time information. ERP Mobility was initiated to overcome such problems and provide real-time connectivity to maximum people possible.
What is the importance of ERP Mobility for Manufacturing?
1. ERP Software with Mobile Apps Increases Reach of ERP
When Mobility is offered with ERP; a larger number of end-users gain access to data & can enter real-time data into the ERP. This gives an opportunity for organizations to know the real-time accurate status of each process & department.
Example: Employees on the shop floor, in the warehouse, salespeople on the field, people working from remote locations or traveling can stay connected and access relevant & timely data directly from ERP; even while on the field.
2. ERP Mobility Increases Opportunities for Real-Time Data Collection
Earlier, it was not possible to capture real-time data of certain business areas into ERP directly because of a lack of Mobility Solutions. Now, ERP Mobile apps provide the opportunity to gather maximum possible data in the digital format as well as in real-time. Moreover, this data gets captured into ERP directly from the field. This reduces the efforts of data entry and eliminates chances of manual errors. It also brings speed in the entire process.
Example: ERP Sales Apps allow sales managers to plan sales executive visits, track whether executives actually completed daily visits planned. At the same time, sales executives can feed information about their discussions, business opportunities, inquiries/orders directly into ERP from the field.  Sales Managers can thus track the real-time performance of sales teams, even from remote locations. This enables early identification of problem areas & helps for resolving issues.
3. Provides Right Information to Right People
With the help of ERP software Mobile Apps, you can send information alerts, notifications, reports and transactions for approvals based on user roles and defined authority; right up to the last person in the information chain. This provides the right people with accurate & real-time information required to provide approvals or make data-based & timely decisions.
Example: Senior Management is likely to travel frequently and this may cause a delay in the approval of relevant transactions. ERP helps define approval rules and sends the documents for approval over mobiles to concerned authorities. This helps Senior Management to stay connected and have accurate information in order to make appropriate decisions while away from the office. Mobile alerts & authorization mechanism speeds up the approval process.
ERP Mobile apps can also provide information about important Manufacturing KPIs, dashboards, and reports for an accurate real-time view of the business. This can help managers to slice & dice data to see if there are any problem areas and identify bottlenecks to resolve the issues as early as possible.
4. Provides Mobility & Flexibility in the real sense 
There are certain roles which require to be on the field. E.g. Sales People. With ERP mobile apps, salespeople get access to accurate information about prospects, customers' data, previous interactions, their budgets, specific requirements, etc. All this information can help improve their pitch to prospects & existing customers. With ERP they have accurate information about products, inventory and more. So, they can confidently make commitments to close deals faster
Similarly, they can upload their sales reports, expense reports, seek approvals online while on the field. This saves significant time and helps improve their productivity & efficiency. They can now focus on the core activity of identifying & meeting more prospects to generate more business.
5. Helps Improve Communication & Coordination
ERP software provides a single source of accurate data. With ERP Mobile apps employees across departments and various locations can access this data in real-time, from anywhere, anytime. They can communicate & coordinate better for various activities such as procurement, inventory management, supply chain management and so on.
Example: ERP Employee Self Service Mobile Apps allow employees to inform their managers regarding leave requests, other requests. Managers can communicate important messages to teams. Procurement / Inventory team members can collaborate for discussions to make decisions etc.
6. Better implementation of Business Discipline 
Top management uses ERP to roll out business strategies. It is easier to implement business discipline when everyone is able to access ERP software with mobile apps from anywhere.
Example: If there is a discipline that salespeople have to update their reports daily. With relevant ERP mobile apps, sales teams can submit daily reports even while they are on the field. If the sales reports are not updated by a certain time, ERP software can send alert & notifications to concerned managers, who can follow up to ensure discipline is maintained.
7. Bring Speed in Business
Delays or bottlenecks in workflows occur due to reasons such as lack of access to relevant, accurate data when necessary, error or omissions in manual document processing, dependence on the physical presence of authorities for approvals, etc.
With ERP mobility, companies are able to capture the maximum amount of data in real-time using mobile apps. ERP Mobility helps ensure accurate information and real-time visibility into business processes. Mobile alerts & approvals make approvals faster without having to wait for the physical presence of authorities. All this helps to eliminate delays in workflows and bring speed in business processes as well as make informed, timely and data-driven decisions.
Summary
ERP Mobility is an essential feature as it enables seamless access to ERP anytime, anywhere. Employees can access relevant data timely as well as enter real-time relevant data into ERP, even while on the field. Thus, ERP Mobility helps ensure, real-time, accurate information to make data-based, timely decisions and increase speed and efficiency of manufacturing companies
Request a Demo of Spectrum ERP with Mobile Apps Now!